Mobile Massages, Pilates &Yoga in and around Sagres.
Relaxation, prevention & therapy
Do you feel your body could use some physiotherapeutical attention and your soul a treat?

Get into a calm state of mind, relax with a Massage to sooth tension (for example after exercise), to recover from physical ailments or to gain focus and energy for your next activities!

Treatments are bookable to your home or holiday location and my home studio in Raposeira.

Contact us for more information and booking requests.
Mobile in Sagres & surroundings
by Indah: certified physiotherapist, Professional registration: C-045496072.

Indah + 351 911 754 890

(DE, NL, ENG, PORT, ES, FR)
working hours: Monday - Friday upon request

Professional & caring
all treatments tailored to you
Professional therapist
I´m a certified physiotherapist with many years of experience in, and a passion for, massage and exercise.
Calm surrounding
You can fully relax at your (holiday) home. We come to you bringing all things necessary for a massage or Exercise class. Stay fit and relax where you are.
Natural oils
loving the scents of the Algarve nature, I use locally made organic essential oil in almond oil.
Sports massage and deep tissue
Not only for athletes! You will feel re-energized and renewed after a sports massage. This massage can enhance physical performance pre-event, warming & stretching muscles to increase range of motion. After sports, techniques may be used to reduce muscular pain and strain and aid with recovery.
You may simply desire a massage that adresses deeper layers of the muscles, to help you reduce pain, stress and release toxins. During a deep tissue massage, deep pressure is applied in a slow fashion to dissolve contractures.

Techniques used include passive stretches and mobilizations, the big muscle groups are adressed with deep pressure. Movements are generally faster and more vigorous than during a relaxational massage.
Indulge in deep relaxation, loosing sense of time and space. This massage uses long, slower strokes, oscillations (shaking techniques), gentle mobilizations and tapping. Pressure as required light, medium or mixed with strong pressure.
During a therapeutical massage, I will focus on a specific problem you are experiencing and treat the areas that are related.
A therapeutical massage has the aim to relieve tension and pain. In severer cases, it may reignite an inflammatory proces in order to promote healing posteriorly.
The goal is to help you recover from physical ailments and get you up and painfree again.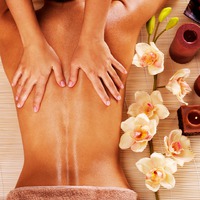 During a full body massage, I use techniques from the different massage styles and my experience. A full body massage is a relaxing, yet (to some extent) therapeutical and re-energizing experience. My massage style is firm, dynamic and alternately, relaxing. Using flowing motion, oscilations, mobilizing techniques and passive stretches, the amount of pressure may be adapted to your personal preference.
Duo massages - Indah + additional therapist
Are you a couple or a group wanting a relaxing massage at the same time? We come with two experienced therapists and tables! Massages will be adjusted to the clients wishes and needs. According to availability, therapists may vary, we will inform you in advance. We operate from the Sagres region but may visit you any where in the Algarve.
Ultimate relaxation: Reiki + Head & face massage
Reiki comes from the Japanese and may be translated as "universal energy" or "soul energy". The client lies down with their clothes on and the practicioner will position her hands lightly on different parts of the body. The tissues receive the hands´ warmth, mostly leading to a state of deep relaxation. Let this gentle and harmonizing energy relax you, followed by a head massage that will leave you sparkling!
Chair massage
Chair massage is a highlight at any event, giving the opportunity to take a break and relax on a massage chair, in good hands! No need to undress. If you are a group of people wanting a short and beneficial massage before or after sports, chair massage is a good option.
Chair massage is highly recommended for companies bringing benefits such as: increased focus & energy, more motivation, good mood, reduced stress, relieve of tension headaches, decreased anxiety and more. Contact us for offers.
Pilates is a method that combines breathing technique, concentration and movement in a controlled manner to prevent lesions. Many exercises derive from Yoga, stretches and dynamic exercises are alternated...
Breathing, meditation, asanas (postures) and movement to increase focus, decrease stress, enhance strength, flexibility and introspection. Followed by a deep relaxation.
Beach massage on the beach of Beliche in Sagres
Booking requests will be confirmed by e-mail or whatsapp. According to our availability, we may send you an alternative booking offer. Thank you!